Across all industries, smart, connected products – such as connected cars, machines and plants – are changing the way manufacturing companies interact with their customers and ultimately run their businesses. This new generation of offerings results from the merging of the physical and digital worlds, often referred to as the Internet of Things (IoT). IoT solutions involve equipping physical objects and devices with sensors and connectivity, as well as digital cloud-based applications. In this process, so-called digital data streams transmitted from the "thing" (i.e., the machine, the plant, the device) to the cloud provide real-time data about the device's usage and behavior as well as environmental parameters (so-called IoT field data).
The paper, "Driving Process Innovation with IoT Field Data," authored at ETH Zurich as well as the University of St. Gallen, describes how manufacturing companies are using IoT field data for process innovation at all stages of the product lifecycle. According to the paper, digital data streams can provide valuable insight into product performance and usage. This insight and the associated transparency can be used for process innovation in the four phases of the product lifecycle (see figure below):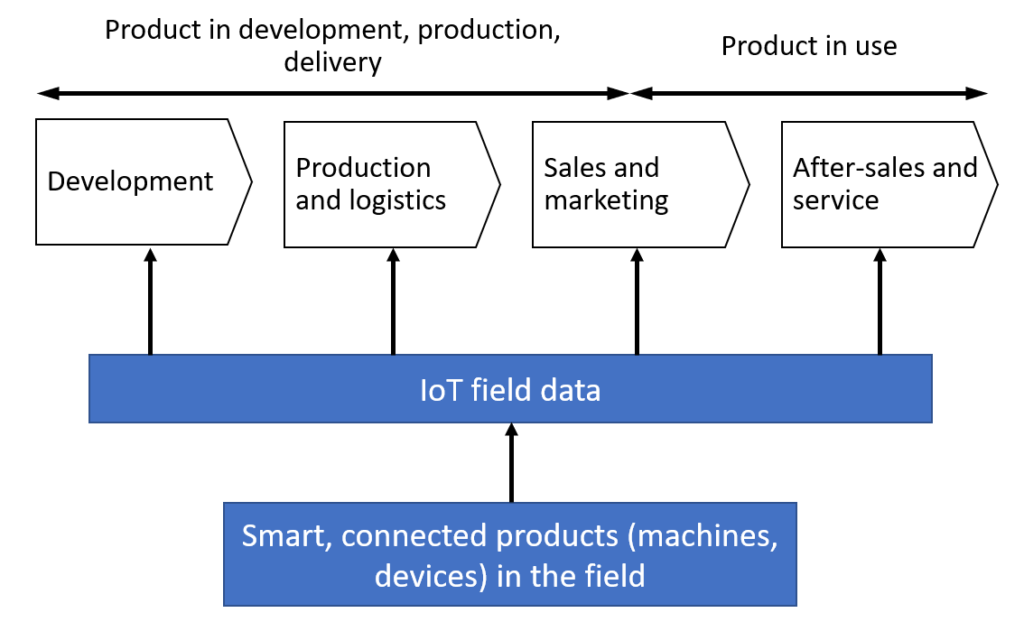 These four business processes are:
Development process: for example, IoT field data such as device state, usage or failure information is used to define (technical) product specifications.
Production and logistics process: IoT field data provides information to optimize or adapt production processes (adaptation of process design / optimization of production process).
Marketing and sales process: How is the product used by different customers? By continuously collecting IoT field data different customer and market segments can be derived.
After-sales and service process: IoT field data enables manufacturers to reduce inefficiencies in handling support processes.
Enclosed are the details of the paper: Dominik Bilgeri, Elgar Fleisch, Heike Gebauer und Felix Wortmann: Driving Process Innovation with IoT Field Data. In: MIS Quarterly Executive, September 2019, https://aisel.aisnet.org/misqe/vol18/iss3/5/